Secure Enterprise-Level Platform
for your automation requirements
Virtual assistants often require access to important enterprise systems in order to retrieve and manipulate data and carry out tasks for both employees and customers. Our platform provides top-tier security, employing highly secure protocols and enterprise-level encryption to safeguard against vulnerabilities
Compliant with Global Industry Regulations and Standards
Virtual Assistant Security
Kore.ai follows stringent guidelines for security and compliance, including regular scans for vulnerabilities. Intrusion detection and file integrity agents monitor the server continually.
The cutting-edge security incident and event management (SIEM) system ensures superior security. Our team analyzes and monitors security alerts, threats, and possible attack vectors 24/7.
Multiple Layers of Authentication
The platform provides the ability to rigorously verify user identities on a global or channel-by-channel and automatically accounts for channel-specific authorization and authentication nuances. Combine authentication methods to create a layered defense system that protects your enterprise and users.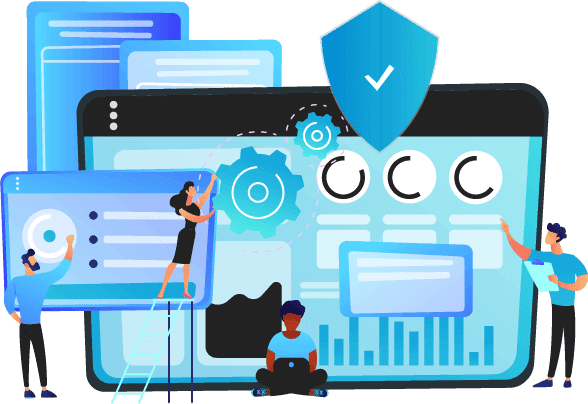 Complete Protection for Sensitive User Data
The platform allows you to redact any personally identifiable information (PII) and sensitive personal information (SPI) shared with your virtual assistants, such as contact information, credit card numbers, home addresses, and more, by transforming its value into a pattern that doesn't contain comprehensible data.
The platform provides redaction, replacement and character masking methods to protect user information.
Enterprise-Grade Encryption
Total Visibility and Control
securely connect to the cloud and on-premise systems

Compliance Across the Board
Kore.ai is dedicated to providing our customers with best-in-class security, compliance, and data protection and a platform that is backed by robust infrastructure. We maintain rigorous internal security practices, regularly engage third-party external penetration experts to test our network security, and routinely refine our technical, administrative, and physical safeguards to provide a safer environment for all your assistants.
Within the Kore.ai Enterprise Optimization Platform, use the built-in tools to retain, monitor, and manage assistant-based messages
Kore.ai Named a Leader in 2023 Gartner® Magic Quadrant™ for Enterprise Conversational Al Platforms
Request a demo
Learn how Kore.ai products and solutions can drive ROI, reduce expenses and increase revenue.