Kore.ai is thrilled to be adjudged one of the best performing companies for driving transformational change within Indian enterprises by The Economic Times.
The company was honoured with the award at the ETBestBrands 2021 in Mumbai on December 21.
This is the 4th edition of the ET Best Brands, which celebrates some of the best brands in India for their business excellence and customer delight.
Kore.ai CTO Prasanna Kumar Arikala, who received the award on behalf of the company, in his keynote explained how some of the best global brands embraced AI enabled technologies to create extraordinary experiences for their customers, employees, and other stakeholders during challenging times.
"There are five areas where AI is helping global enterprises transform their customer experience management. These include natural language-powered conversational IVR, self service automation, omnichannel experience, personalized services and AI-enabled agent experiences. Companies are using AI to enable real-time hyper personalization and consistent experiences to their customers. The evolution of no-code platforms like Kore.ai has made it increasingly easy even for business users to build automation and improve self-service options," he observed.
The award is a testimony for Kore.ai's technological process and its relentless efforts in delivering value through creating extraordinary experiences for customers and employees, he noted.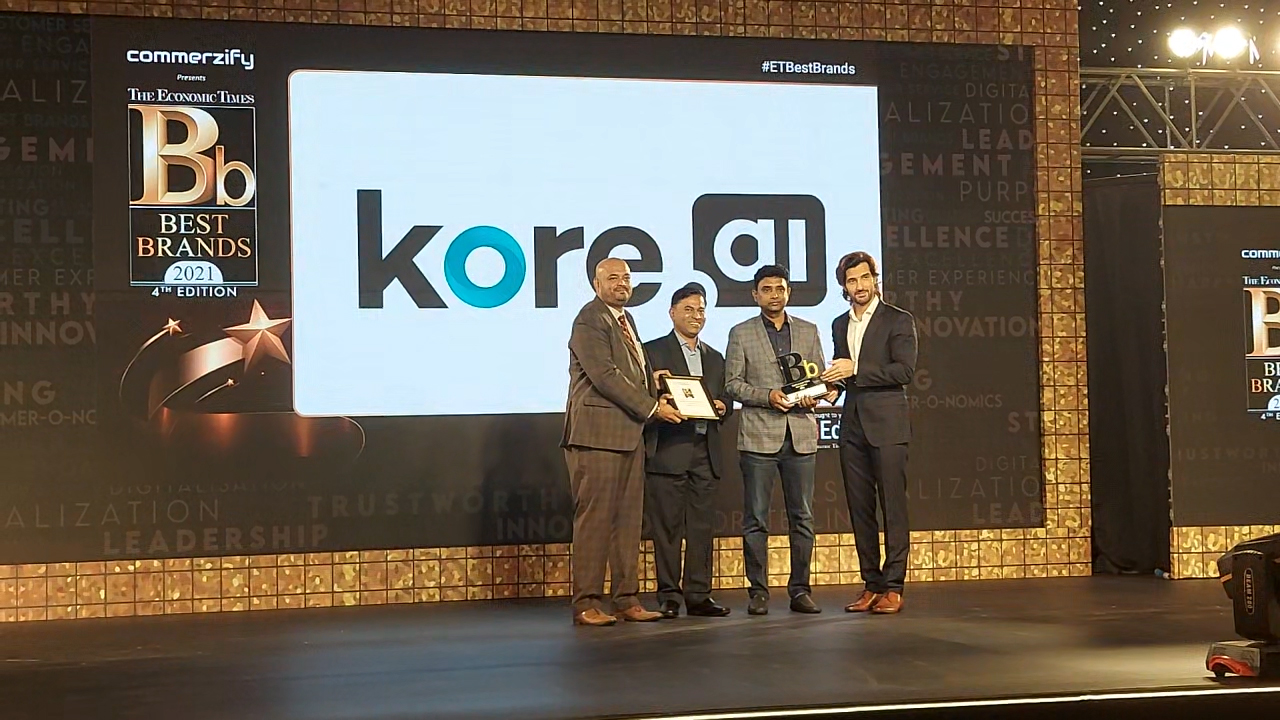 Bollywood actor Aditya Seal (extreme right) hands over the ET Best Brands Award 2021 to Kore.ai CTO Prasanna Kumar Arikala at a function in Mumbai on December 21, 2021. Also seen is Kore.ai SVP Marketing Abhijit Mhetre (second from left) with the award certificate.